Our BIG Giveaway!

4 DAY STAY AT A LUXERY RESORT
You read it right.
We're giving away 4 days at a luxury resort in beautiful Florida!

PLUS a Special SurPrize. Continue to find out more...
Three Ways to Win
Socials
Share

+

Like

+

Follow
our Facebook + Instagram Giveaway Posts
for 1 Entry.
Subscribe
Subscribe
to our
Monthly Advisories
for a 2nd Entry
Purchase
Purchase
a Course or a Class
for a 3rd entry!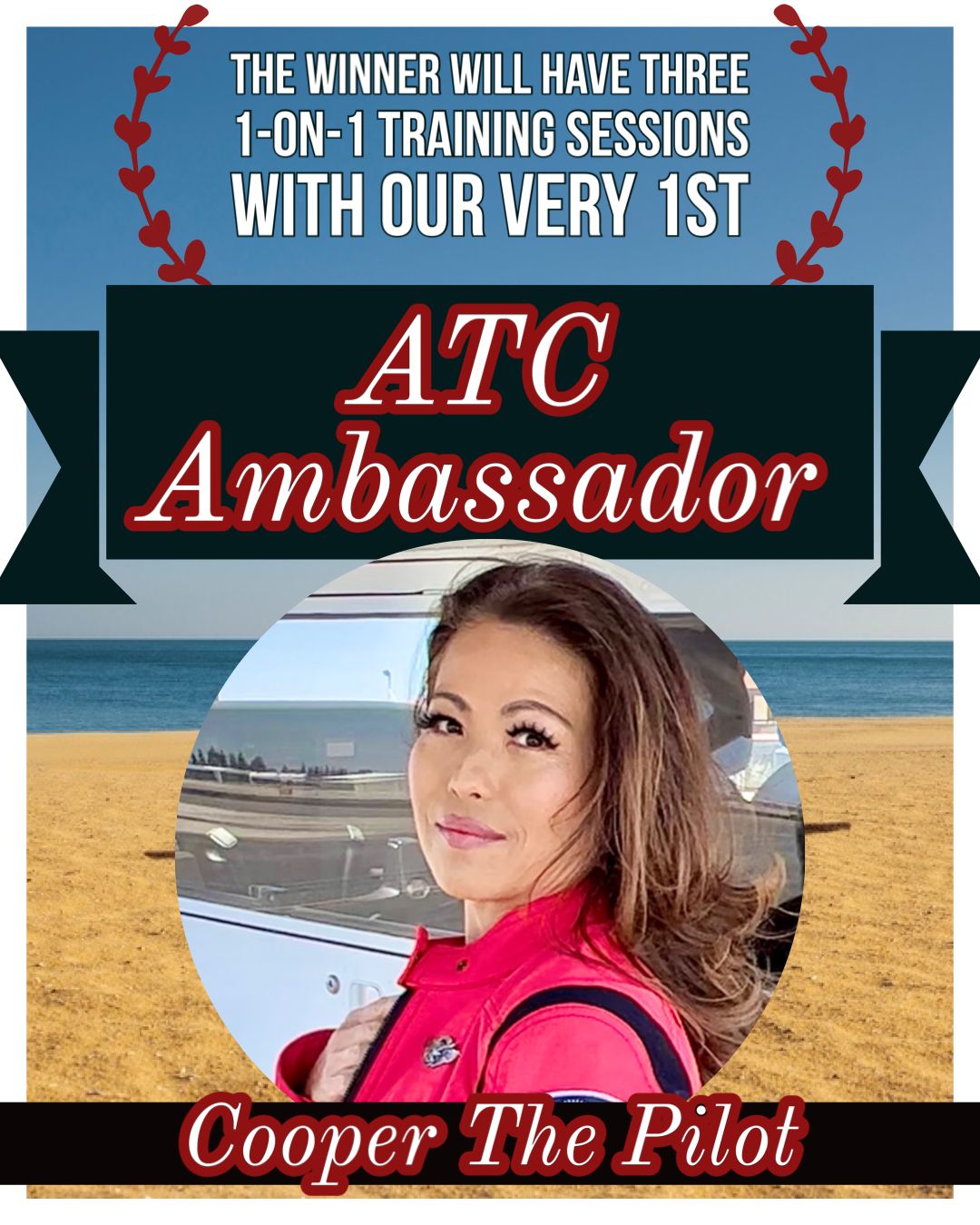 Senior
ATC Ambassador
Cooper is a content creator in the aviation field.

She is the International Outreach Director at @fosterpilotsworldwide to bring brand awareness to their program and serves as a humanitarian pilot for their missions. They have an exciting venture planned for later this year! She began a scholarship program last year forming @hangar22.official giving out over $15,000 in funds and products to her winners with the support of brands and various flight schools.

Cooper started her journey as a GA pilot and now advocates for future aviators.
Days Until Giveaway Drawing!
Empty space, drag to resize
All Entries Must Be Submitted Before March 29th, 2023 11:59pm MST.
The Winner will be chosen randomly from a list compiled through action tracking.
Winner must hold a
student pilot certificate or private pilot license.
The Winner will be Announced on March 30th, 2023
During SUN n FUN's "The Bash"
BY ENTERING THE COMPETITION, YOU AGREE TO THESE OFFICIAL RULES, WHICH FORM A CONTRACT. SUBJECT TO APPLICABLE LAWS, THIS CONTRACT INCLUDES INDEMNITY OBLIGATIONS ON THE PART OF ENTRANT AND A LIMITATION OF ENTRANT'S RIGHTS AND REMEDIES.

1. Eligibility. The ATC for Pilots Giveaway (the "Competition" or "Prize Draw") is only open to legal residents of the United States of America who are eighteen (18) years of age or older and hold a student pilot's license or private pilot's license issued legally by the Federal Aviation Administration. All eligibility is subject to all national, provincial, municipal, territorial, federal, state and local laws and regulations. All entries submitted are the property of ATC for Pilot (the "Sponsor"). The database clock maintained by ATC for Pilots will serve as the timekeeper for this Competition.

2. Competition. The Competition begins on Tuesday, February 20th, 2023 at 12:01:00 a.m. Mountain Standard Time ("MST"), and ends on Thursday, March 29th, 2023 at 11:59:59 p.m. MST (the "Entry Period"). There will be one (1) unique random drawing to award the giveaway. The winner will be announced on March 30th, 2023 during SUN 'n FUN's "The Bash". Entry in the Competition does not constitute entry into any other promotion, contest, or Competition. By participating in the Competition, each Entrant unconditionally accepts and agrees to comply with and abide by these rules, the Official Rules and the decisions of the Sponsor, and/or the Administrator whose decisions shall be final and legally binding in all respects and not subject to further review in any forum.

3. How To Enter. There are three (3) ways to enter:

(a) Share, Like, and Follow the social media pages of ATC for Pilots on Facebook and Instagram.
(b) Subscribe to the official Newsletter (known as "Monthly Advisories") of ATC for Pilots.
(c) Purchase any Course or Virtual Class provided by ATC for Pilots on the ATC for Pilots webpage.

4. Limit. You may enter three (3) times, one (1) entry per entry method. Entries in excess of any stated limitation, and entries generated by script, macro or other automated means, or any means that subverts the entry process, will be void. Any attempted form of entry other than as described herein is void. Sponsor will determine, in its sole discretion, what constitutes a valid entry, and reserves the right to reject any submissions that it deems, in its sole discretion, to violate any of Sponsor's policies, standards, or practices. All materials and entries submitted become the property of the Sponsor and will not be returned or acknowledged.

5. Agreement to Official Rules. Participation constitutes Entrant's full and unconditional agreement to comply with the Official Rules and Sponsor's and Administrator's decisions, which are final and legally binding in all respects.

6. Winner Selection and Notification. The random drawing will be conducted on March 30th, 2023 by the Administrator from all eligible entries received during the Entry Period. Limit one (1) prize per person or household. Potential winners will be notified by e-mail, mail, phone, or social media account provided by the potential winner at the time of entry. Sponsor shall have no liability for any notification that is lost, intercepted, or not received for any reason. If, despite reasonable efforts, any potential winner does not respond within fourteen (14) days of the first notification attempt, or if prize notification is returned as unclaimed or undeliverable, such potential winner will forfeit the prize and, at Sponsor's discretion, an alternate potential winner may be selected. If communication with the Winner is established and the Winner does not accept the prize verbally, or in writing, within three (3) days of the date communications are established, the prize is forfeit and an alternate winner will be selected. If any potential winner is found to be ineligible, or if the potential winner has not complied with the Official Rules, or declines a prize for any reason, such potential winner will be disqualified and, at Sponsor's discretion, an alternate potential winner may be selected. Prize. Sponsor reserves the right to select another Winner at their sole discretion. Only the prizes listed below will be awarded in the Giveaway.

One (1) - three (3) night and four (4) day stay at a pre-selected resort in Florida, United States. Date and location to be determined by ATC for Pilots. Date and location will be disclosed to the Winner upon completion of the Giveaway.

Three (3) - Complimentary 1-on-1 sessions with a certified ATC Ambassador of ATC for Pilots.

LIMIT: One (1) prize per person or household.

The Winner will not receive the difference between the actual and approximate retail value of the prize selected by the winner. Sponsor and/or Administrator will not replace any lost, mutilated, or stolen prizes, tickets or passes. Prizes are non-transferable and non-refundable, and no substitutions will be made except as provided herein, in the Sponsor's sole discretion. Prizes are not redeemable for cash. Sponsor reserves the right to substitute a particular prize for one of comparable or greater value. Winner is responsible for any applicable local income taxes. Winner is responsible for travel to and from the selected resort. All incidental expenses of the trip, whether required or voluntarily, are not included and shall be the responsibility of the Winner. Prizes will be provided via electronic form.

Dates for the resort stay shall be chosen by the Sponsor. The Winner will be notified of the chosen dates shortly after selection and must respond within 5 business days to advise the Sponsor whether they can or cannot attend on the selected dates. If the Winner cannot attend on the selected dates, the Winner forfeits the prize and a new selection will be made.

Participation in the Three (3) 1-on-1 sessions is mandatory. By accepting the prize, the Winner agrees to participate in all Three (3) sessions. Agreement must be made (30) days prior to the selected date of resort stay. Should the Winner refuse to participate, the winner forfeits the prize and another winner will be selected.

8. DISCLAIMER. Subject to applicable laws, Sponsor makes no warranties, and hereby disclaims any and all warranties, express or implied, concerning any prize furnished in connection with the Competition. WITHOUT LIMITING THE GENERALITY OF THE FOREGOING, SUBJECT TO APPLICABLE LAWS, PRIZES ARE PROVIDED "AS IS" WITHOUT WARRANTY OF ANY KIND, EITHER EXPRESS OR IMPLIED, AND SPONSOR HEREBY DISCLAIMS ALL SUCH WARRANTIES, INCLUDING BUT NOT LIMITED TO, THE IMPLIED WARRANTIES OF MERCHANTABILITY, FITNESS FOR A PARTICULAR PURPOSE AND/OR NON-INFRINGEMENT.

9. Winner Publicity Requirements. Acceptance of the prize shall constitute the Winner's agreement and consent for Sponsor and its designees to use winner's name, likeness, photo, avatar, and/or prize information (including, without limitation, city and state of residence) in connection with this Competition for promotional, advertising or other purposes, in any manner, worldwide, in any and all media, whether now known or hereafter devised, including the Internet, without limitation and without further payment, notification, permission or other consideration.

10. Release of Liability / Conditions of Participation.

A. Transmission of Information. Sponsor, the Administrator, and each of their respective officers, directors, employees, agents, affiliates, successors, and assigns (all collectively the "Released Parties") are not responsible for: (1) any incorrect or inaccurate information, whether caused by Entrant or not, printing, typographical or other errors, or by any of the equipment or programming associated with or utilized in the Competition; (2) technical failures of any kind, including, but not limited to, malfunctions, interruptions, or disconnections in phone lines or network hardware or software; (3) unauthorized human intervention in any part of the entry process or the Competition; (4) printing, typographical, technical, computer, network or human error which may occur in (a) the administration of the Competition, (b) the uploading, processing, or random selection of entries, (c) the announcement of the Winner or potential winner, or (d) the prizes or any Competition-related materials; (5) late, lost, garbled, misdirected, inaccurate, incorrect, undeliverable, damaged or stolen entries or mail; (6) costs associated with claiming or redeeming the prizes; and/or (7) losses or damages resulting from an Entrant's connection to the Internet via any of the websites referenced herein. The Released Parties are not responsible for any (a) incorrect, mistranscribed, misdirected or undeliverable entries or e-mail transmissions, (b) incorrect announcements, (c) technical problems, including, without limitation, malfunctions of computer systems, servers, providers, or any hardware/software, (d) lost or unavailable network connections or failed, incomplete, garbled or delayed computer transmission, or (e) a combination of any of the foregoing. Sponsor assumes no responsibility for (i) late, lost, incomplete, inaccurate or damaged entries, (ii) undeliverable e-mails resulting from any form of active or passive e-mail filtering by a user's Internet service provider and/or e-mail client, or (iii) insufficient space in user's e-mail account to receive e-mail. Sponsor shall not be responsible for any damage (whether material or non-material) caused to Entrant's computer equipment or to data which is stored on such equipment, or to Entrant's personal, professional or commercial activities. Proof of submitting entries will not be deemed to be proof of receipt by Sponsor or Administrator.

B. Fraud; Reservation of Rights. Sponsor reserves the right to cancel, suspend, and/or modify this Competition, or any part of it, if any fraud, technical failures, or any other factors impair the integrity or proper functioning of the Competition, as determined by Sponsor in its sole discretion. If terminated, Sponsor may, in its sole discretion, determine winners from among all non-suspect, eligible entries received up to time of such action or as otherwise deemed fair and appropriate by Sponsor. Administrator, in its sole discretion, reserves the right to disqualify any individual it finds to be (a) tampering with the entry process or the operation of the Competition, (b) acting in violation of the Official Rules of this or any other promotion, or (c) acting in a dishonest, fraudulent, unsportsmanlike or disruptive manner, and to void all associated entries. The preceding remedy in no way precludes Sponsor from taking legal or other actions against such individuals so as to protect its rights. Sponsor's failure to enforce any provision of these Official Rules in a given circumstance does not constitute the waiver of such provision.

C. Release and Indemnity. By participating, Entrant hereby releases the Released Parties, and agrees to indemnify, defend, and hold the Released Parties, and the other persons and entities involved in the development, production, and/or administration of the Competition, harmless, from any and all liability for losses, harm, damage, injury, costs, fees, and expenses, including without limitation, property damage, personal injury (including emotional distress), and/or death, arising from participating in the Competition, any Competition-related activity, and/or acceptance, receipt, possession or use/misuse of any prize, and for any claims or causes of action based on publicity rights, defamation, or invasion of privacy and merchandise delivery.

11. FORCE MAJEURE. If, for any reason, the Competition (or any part thereof) is not capable of running as planned by reason of computer virus, bug, system malfunction, tampering, unauthorized intervention, fraud, technical failures, fire, flood, earthquake, storm or other natural cataclysm, riot, strike, terrorist activity, civil commotion, governmental regulation, or any other causes beyond the control of Sponsor which, in its sole opinion, corrupts or affects the administration, security, fairness, integrity or proper conduct of the Competition (or any part thereof), Sponsor reserves the right, in its sole discretion, to cancel, terminate, modify or suspend the Competition, or to thereafter conduct the Competition by selecting the prize winner(s) for affected Competition drawing from among all eligible entries received for such affected Competition drawing prior to the action taken by Sponsor or otherwise in a manner which is fair, equitable and in accordance with these Official Rules, as determined by Sponsor in its sole discretion.

12. Disputes. Except where prohibited by law, Entrant agrees that: (a) any and all disputes, claims, and causes of action arising out of or connected with the Competition, or any prize awarded, shall be resolved individually, without resort to any form of class action; (b) all claims must be resolved in the state or federal courts located in Colorado; (c) any and all claims, judgments and awards shall be limited to actual out-of-pocket costs incurred, including costs associated with entering this Competition, but in no event including attorneys' fees; and (d) unless otherwise prohibited, under no circumstances will Entrant be permitted to obtain awards for, and Entrant hereby waives all rights to, any indirect, punitive, incidental, and consequential damages, or damages of any kind (other than actual out of pocket expenses), and any and all rights to have damages multiplied or otherwise increased. All issues and questions concerning the construction, validity, interpretation and enforceability of these Official Rules, or the rights and obligations of the Entrant and Sponsor in connection with the Competition, shall be governed by, and construed in accordance with, the laws of the State of Colorado, without giving effect to any choice of law or conflict of law rules (whether of the State of Colorado or any other jurisdiction), which would cause the application of the laws of any jurisdiction other than the State of Colorado, USA.

13. Sponsor's Privacy Policy. Entrant is providing his or her information to Sponsor. To view the Sponsor's privacy policy visit https://www.atcforpilots.com/privacy. By submitting your personal information you may receive marketing e-mails from the Sponsor. You may opt-out after the first e-mail.